Our team is engaged, dedicated and multi-talented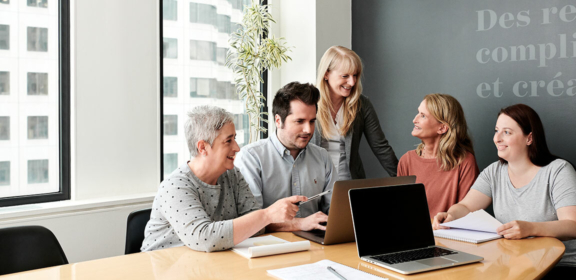 Our professionals are some of the best in their fields: graphic arts, digital services, linguistic services and project management. The strength of our team, combined with that of our clients, is the key to success in our projects.
When Réjean and Danielle launched Dyade in 1998, they wanted to provide services that meet the highest quality and customer satisfaction standards. To this day, these core values still shape the company culture and drive the work of our 20 talented experts.
We've undertaken a digital transition to better respond to the market's reality and meet our clients' needs. Our expertise includes an in-depth understanding of web user behaviour. The strategies we develop leverage every opportunity and create experiences adapted to both our clients' needs and those of their clients.
In 2017, Louis-Pierre Lacoursière joined Dyade as Director of Operations, Linguistic Services. His leadership and expertise have positioned Dyade as a leading branded content creator and translation service provider for various platforms. 
More recently, we've committed to fostering growth by welcoming Sylvain Boutin in the role of Client Relationship Partner. Thanks to his extensive experience in account management and business development, he offers relevant and effective strategies built around the client's needs.
Our values
Openness
We dare to invent, imagine and explore new perspectives, both in our creative process and in carrying out projects.
Collaboration
By combining the strengths of our professionals with those of our clients, we create a unique team. This dynamic is the foundation of our approach.
Integrity
We explore all of the possibilities created by your projects with objectivity, honesty and transparency.
Social engagement
Since 2002, we've been involved with the Fondation de l'athlète d'excellence du Québec as a way to uphold the values that are important to us. As a prestige communications partner, we offer our branding services to the foundation. Dyade is also proud to donate to the Hôpital Maisonneuve-Rosemont Foundation and Logis Rose Virginie Foundation.
Several of our team members give back to the community as well, by sitting on the board of directors for non-profit organizations, contributing to fundraising campaigns and mentoring young entrepreneurs.
Have a project?
Tell us about it.