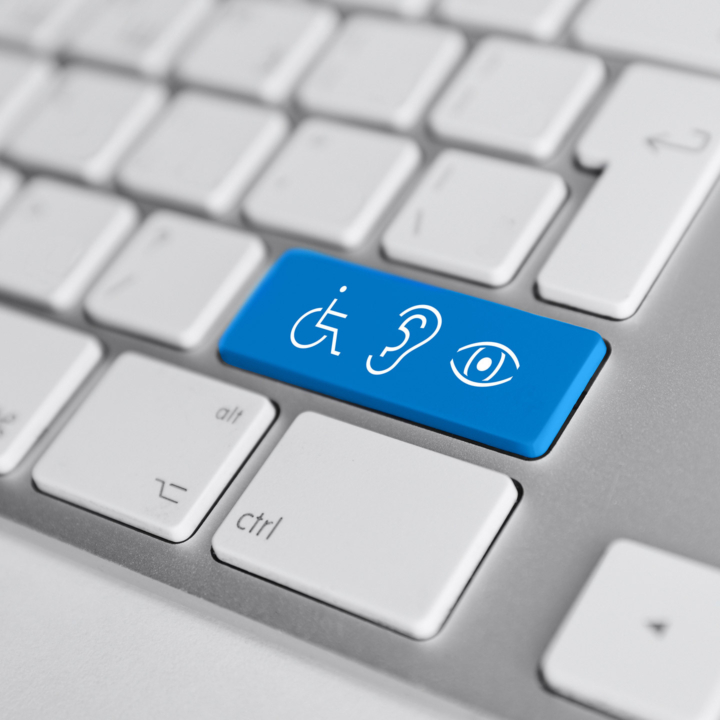 Digital experience
Understanding web accessibility
16 October 2019
Reading time: 6 min
What good is it to invest time and money in a website that isn't accessible? Too many companies neglect to factor this into their digital projects. 
But what does web accessibility even mean? It's first and foremost a question of inclusivity, or nondiscrimination. An accessible platform is one that all kinds of people, including people with disabilities, can navigate and interact with. Companies that fail to meet this requirement not only exclude whole categories of users, but they also disregard the standards established by the World Wide Web Consortium (W3C). The level of accessibility required varies based on the type of business or organization, because different services have different objectives.
Your site's level of accessibility is just as important as its content. By analogy, would you construct a public building without an elevator to get to other floors or ramps for people with reduced mobility? Without these kinds of considerations, companies cannot reach their entire target audience with their digital platforms.
Here's a way to capture the full scale of the issue: a 2017 survey on Canadians with disabilities revealed that over 6 million members of the population over the age of 15 identified as having a disability. This represents 22% of Canadians—a considerable proportion.
In light of this, are you familiar with the new Accessible Canada Act (S.C. 2019, chapter 10)? The Act is meant to ensure a barrier-free Canada by promoting accessibility and the full and equal participation of all, including people with disabilities. In addition to focusing on sectors under federal jurisdiction, Ottawa wants to address the question of information and communications technology in a more comprehensive way.
Joining the movement is great on its own, but it also makes sense from a marketing perspective. Your brand and products will be targeting as many people as possible, including those with hearing or visual difficulties, cognitive impairments or learning disabilities. From this point of view, accessibility becomes an essential consideration.
An accessible website adds appeal for users. It projects an image of openness and the principles of universality and inclusion. To get there, here are a few things to keep in mind:
Planning
Decide on the level of accessibility from the very start of the project, corresponding to clear marketing goals. All team members involved in creating and producing the site need to be included in this process. Accessibility-related costs also need to be assessed and considered, like any other aspect of the project.
Design
Accessibility doesn't have to be an obstacle in the creative process. Quite the contrary: this is the moment to show how creativity and inclusion can go hand in hand. The colours, font, content structure and navigation features are components of web accessibility that will keep visitors coming back and encourage them to choose you over the competition.
In a blog post on the topic, accessibility expert Denis Boudreau discusses how design influences web accessibility.
Development
Developers play a central role. In some ways, they'll be steering the work, because it's their job to actually translate the directions from the designers into code.
Training
Digital projects involve endless technical details and subtleties. Not everyone will have the same level of web accessibility expertise, and specialists should receive training that develops their skills in this area. Dyade's creative and production teams have been trained on web accessibility, enabling them to advise clients and effectively get up to speed to deliver projects that meet the relevant accessibility standards.
All in all, web accessibility and accessible downloadable documents are taking on more and more importance in the digital world. They play a role in promoting your brand and products while helping your company project an inclusive image and reach your clients where they're at.
Have a project?
Tell us about it.